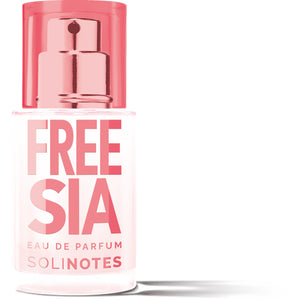 Fressia | Perfume 15ml
Fressia (Floral)
Solinotes, Beyond Perfume:
Breathe a whirlwind of positive vibes with Solinotes fragrance collection! A palette of fragrances composed from super-ingredients to take care of yourself and give an unexpected energy pick-me-up.
A Unique Scent A floral bouquet composed like a sunshine. The floral heart of Freesia composed of white flowers is illuminated by its bottom notes of Osmanthus and Sandalwood. Its fruity top notes of Peach, Pear and Mandarin make it bright.
• When you need a shot of energy, use the moodboosting power of Freesia: Reviving.
• Notes: Peach, Pear and Mandarin; White Flowers; Osmanthus and Sandalwood
Size: 15 ml, 0.5 oz
Perfect size for a purse or carry-on.

Made in France